Units 15-16
Ford Lane Business Park
Ford Lane
BN18 0UZ
Portable, non-destructive testing of concrete
More info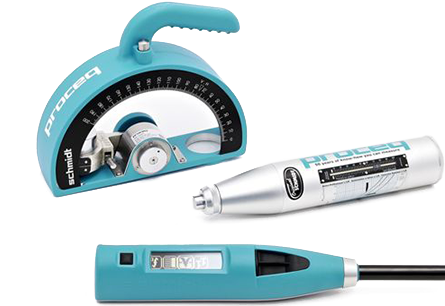 Hire or Buy Today! Call 01243 555 720
Rebound Hammer
We hire and supply the Original Schmidt Hammer.
The original Schmidt® Hammer, Type N, is a spring loaded rebound device which provides rebound valves on a mechanical sliding scale. These values can then be correlated to compressive strength by using the conversation table affixed to the hammer.
Overview
The compressive strength of concrete is directly related to its quality which affects its durability and load bearing capability. Surface hardness of large areas of concrete may be surveyed systematically and quickly.
A rebound hammer adapts the principle that a mass impacts the concrete surface with a standardised energy and causes local indent. The amount of rebound of the mass is measured and expressed as a resultant indicator of the strength of the concrete. The original Schmidt rebound hammer is the world's first and most widely recognised test hammer for analysing the compressive strength properties of concrete.
- Non destructive measurement of concrete compressive strength characteristics
- Control of uniform concrete quality
- Quickly identifies suspect concrete
- other available models include The Silver Schmidt, Digi Schmidt and Pendulum Hammer
Features
The original Schmidt Hammer for concrete non destructive testing with a N/mm2 scale includes a grinding stone, carry case and instruction booklet with conversion charts.
Contact us for further product information or any queries you may have operating our equipment.